---
Some links to products and travel providers on this website will earn Traveling For Miles a commission that helps contribute to the running of the site. Traveling For Miles has partnered with CardRatings for our coverage of credit card products. Traveling For Miles and CardRatings may receive a commission from card issuers. Opinions, reviews, analyses & recommendations are the author's alone and have not been reviewed, endorsed, or approved by any of these entities. For more details please see the disclosures found at the bottom of every page.
---
Marriott's not exactly flavor of the month right now as it tries to deal with another big IT breach and as it continues to be one of only two major hotels chains that have not announced any significant provisions to help regular guests retain or earn elite status this year…but one small piece of good news has now appeared.
Before the Marriott/Starwood merger/takeover/disaster/abomination/calamity (everyone will have their own name for it), it was possible to earn 30 elite night credits simply by holding a Marriott personal and a Marriott business credit card (15 nights from each card), but that benefit was curtailed once Chase and American Express both began issuing Marriott Bonvoy co-branded credit cards (Chase was the only issuer of Marriott credit cards before the merger) – for the past couple of years Bonvoy cardholders have only been able to earn 15 elite night credits regardless of how many co-branded cards they hold.
Without any announcement or fanfare, this has now changed.
Marriott Improves Credit Card Elite Night Credits
If you take a very close look at the terms and conditions associated with the Marriott Bonvoy Brilliant® American Express® Card you'll find that the wording discussing the 15 elite night credits now reads like this (bolding is mine and terms apply):
A maximum of 15 Elite Night Credits will be provided per Marriott Bonvoy Member Account, unless you have both a small business Marriott Bonvoy Card account and a consumer Marriott Bonvoy Card account; then, you may receive a combined maximum of 30 Elite Night Credits (15 per Card account). This benefit is not exclusive to Credit Cards offered by American Express.
Here's a screenshot showing this exact wording:
Marriott has gone back to its old policy of awarding 15 elite night credits for a personal co-branded credit card and further 15 elite night credits for a business co-branded credit card.
As American Express is the only card issuer that has the right to offer Marriott Bonvoy Business cards you'll have to hold the Marriott Bonvoy Business® American Express® Card if you want a chance to collect an easy 30 elite night credits, but as the wording above makes very clear, you don't have to hold a personal Bonvoy card from American Express to get the other 15 nights. All the following cards paired with the Bonvoy Business card will trigger a further 15 elite night credits (terms apply):
The Ritz-Carlton Credit Card (Chase)*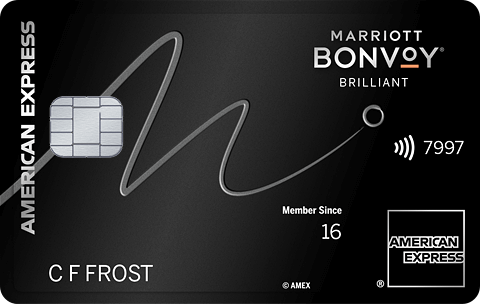 *Card not open to new applicants
Good… but not great
It's a little annoying that Marriott has just gone back to its old rules and not been a little more creative with its revised policy as we're now in a situation where a Bonvoy member paying $900 in annual fees (Ritz-Carlton Card + Bonvoy Brilliant Card) is only earning 15 elite night credits, while a different Bonvoy member paying just $220 in annual fees (Bonvoy Boundless Card + Bonvoy Business Card) is earning 30 elite night credits…and that doesn't seem very equitable.
Still, that little gripe aside, it's important to highlight that this change in policy opens up a good opportunity for travelers to earn 30 Bonvoy elite night credits per year in return for just $220 – that's 5 nights more than you need for Gold status, 60% of the nights needed for Platinum Status and 40% of the nights need for Titanium status….and that's without setting foot in a Marriott property.
If you value Marriott Bonvoy elite status, this could be a very good deal.
Bottom line
It's great to see Marriott reviewing past decisions and making changes where changes are needed (I suspect sign-ups for the Bonvoy Business Card were looking bad) and I'm delighted that 30 elite night credits are back on the table for a lot of people… but I just wish Marriott hadn't left behind a lot of Bonvoy members who are paying $545 – $900 in annual fees on personal cards and getting nothing from this rule change.